Hi there, this is Ola (Olena) and Maciek. We are a couple from the Puget Sound area in Washington state, USA. In 2021 we left our land life and jobs, sold our house, and embarked on a southbound journey to Mexico on our Outbound 46 – Qué vendrá. This blog is a chronicle of that voyage.
We were born and raised in Poland, got married there, and then through a set of moves, migrated to Canada, the United States, and Washington state. Like most new transplants, we focused on building our life and following the American Dream – getting a house, a car, or two, raising a family, and advancing our careers. But we also traveled and explored our newfound homeland, near and far. As part of that, we picked up sailing around 2004, starting in a local Seattle sailing club. First, Maciek got the bug, as he always wanted to try but never really had an opportunity. Ola followed, and we found ourselves spending more time together on the water. After several years of chartering, we bought our first boat (a trimaran) and spent several seasons cruising in Puget Sound and the San Juan Islands with our kids. Our experience grew, and so did our kids, so we decided to move to a bigger boat – a monohull (a Jeanneau) which allowed us to cruise longer and farther. One of those long summer trips took us to Desolation Sound in Canada. During that trip, we started talking that we would like to do this cruising thing for longer and started making more serious plans about it. We longed for a simpler life without the burden of a large house, a car, or two, and the hectic pace of work. We decided we needed a break for at least some time, but we are not sure yet for how long.
First, we had to pick a boat. We concluded that we needed a different boat for that long-range cruising and, after a 6-month search, settled on Qué vendrá.
About the Boat
Qué vendrá is an Outbound 46 sailboat. She is a hull #42 and was built in the winter and spring of 2009. She had one owner before us, and he took great care of her while not sailing that much. The result was that we got a boat that is in excellent condition for her age, has not been used hard, and has not been modified much from the original factory specs.
The design
She is a solent rig, meaning she has a single mast with a mainsail and two front sails – a small jib on an inner stay and a larger genoa on furlers. The cockpit is placed aft and provides a good balance between safety and comfort. Inside is the forward "owners" cabin, with a centerline bed and a "guest" cabin aft. The salon settees can be converted to additional sleeping berths, so overall, they can sleep for 7. The interior includes two heads (toilet/shower), a galley (kitchen) that is very ergonomically laid out, and a navigation station. There is also a large "workshop" area in the aft section.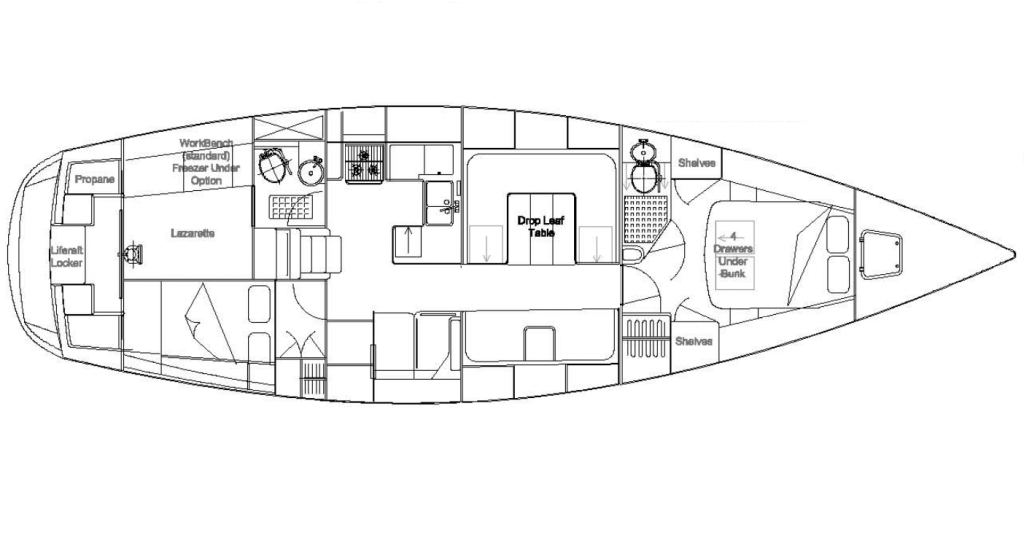 What we appreciate in her design can be summarized by borrowing from the list published by the builder:
Lines by renowned racing yacht designer: she has been designed by late Carl Schumacher, who successfully combined the moderate displacement required for cruising comfort with an efficient underbody needed to beat the weather, upwind performance, and excellent control
Moderate displacement: dampened motion and offshore comfort
High Righting Moment: upwind performance
Large tanks centered over the keel: 200 gallons water, 190 gallons fuel for a long cruising range
Long bulb keel molded with the hull: no keel bolts, deep bilge sump
Semi-raised salon: airy, family room style interior, large windows that can be looked through while standing inside
Large, deep, and narrow cockpit: comfort and offshore safety
Short companionway: a safe movement to and from the cabin
Watertight bulkhead 7 feet from bow: collision safety
Solid 100% hand-laid fiberglass hull: still the preferred choice of serious cruisers
Double Headstay Rig: versatility and ease of sail changes
Large Foredeck sail/stowage locker: keep wet gear away from living spaces
Large storage capacity: Unbelievable number of places to stow things onboard
Ventilation: 4 large dorades, solar vent, 10 opening ports, 8 deck hatches
Dedicated workshop space: a designated area for all boat systems, tools, and working on boat projects
What's in the name?
Qué vendrá is Spanish for "what will come". We took some inspiration from the song under that title by Zaz. You can hear and see it here. The song's vibe and energy and its lyrics resonate with us.
What will come, what will come
I write my path
Without thinking, without thinking
Where it's going to end

If I get lost, it means I already found myself
And I know that I have to continue