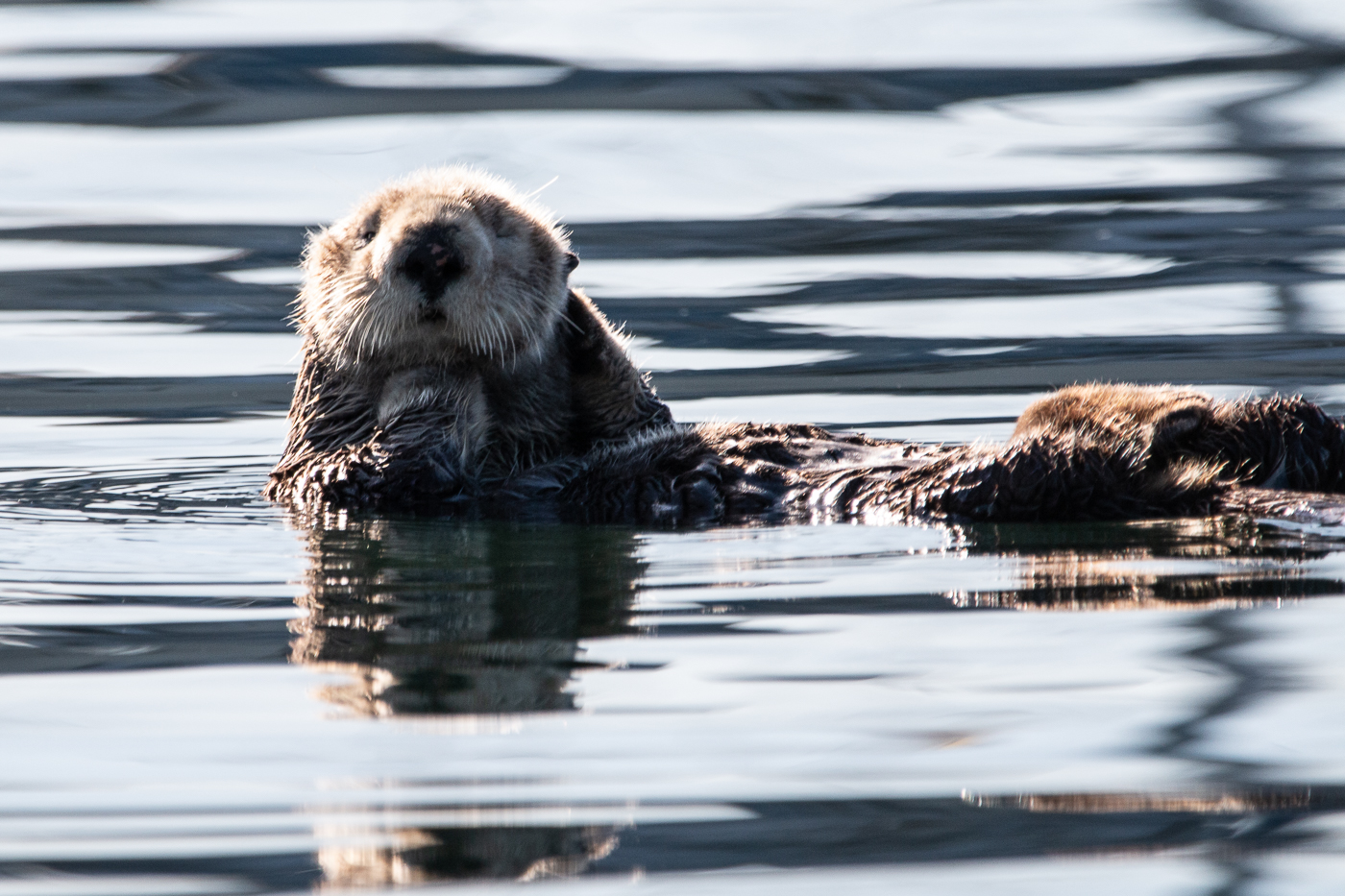 Monterey, an extended stay
We came to Monterey to stay for about a week and thoroughly explore and enjoy it. We ended up staying three weeks. Not by choice, but due to personal health issues. Despite being forced to explore Monterey's terrible health system, we still found an opportunity to sample a lot of sights and experiences in and around the town. We've seen much more than what we have planned and we enjoyed every part of it.
---
Monterey has a natural harbor that has been used by ships for centuries. The city was actually founded because of that location and served as a port of entry for Spanish and American traders. The waters around it are one of the most bio-diverse on America's west coast and are designated a marine sanctuary. In the middle of the bay, there is a deep underwater canyon that brings nutrition-reach waters up to the surface and creates a vibrant ecosystem that supports small and large fish, and sea mammals such as otters, dolphins, sea lions, and whales. It also enabled a large fishing industry throughout the years.
Monterey Harbor provides a choice of two marinas and an anchorage. The marinas are somewhat protected by two breakwaters, one on the east side and one on the north. I say "somewhat", because wave surge is still noticeable inside the marinas. The marina in the northwest corner is the Breakwater Cove Marina. It is a private one and the smaller of the two. The docks are in a good condition and were the first place where we found single-boat docks, which are popular in California. You have two finger docks, one on each side of the boat, making the docking somewhat less stressful. It has good showers, laundry, and a chandlery next to a small boatyard, where some repairs can be made. The second marina – Monterey Municipal Marina – is much larger and much more popular. It is also half the price of the other one, $0.75 per foot per day when we were there. The showers are much less appealing and the laundry is an outdoor one where you occasionally share space with some homeless people. Marina is nestled between two busy wharves – the Fisherman Wharf with all the restaurants and tourist attractions, and the public wharf, sometimes called Wharf II, where people drive, walk and hang out. There is a narrow entrace into the marina, called "The Jaws". The marina has a bit of a problem with sea lions. They tend to occupy docks, especially at night, and many boaters have to erect barriers to fend them off. At night one needs to be prepared when walking the docks, we saw sea lions fighting for space as we walked past. The staff at both of those marinas have been very nice, always present, and very welcoming and accomodating to all our requests and changes in our plans. Both marinas have a limit of maximum 2 weeks of stay. Between the two, there is an open space that is occupied by a large mooring field full of local boats. No room to anchor there contrary to what the chart says. The actual anchorage is outside of the public wharf, on the east side of the harbor. It is very exposed to swell and stronger winds. When the first big fall gale came in mid-October this whole anchorage became really dangerous and all boats have been ordered to leave. It has been closed for the rest of the year.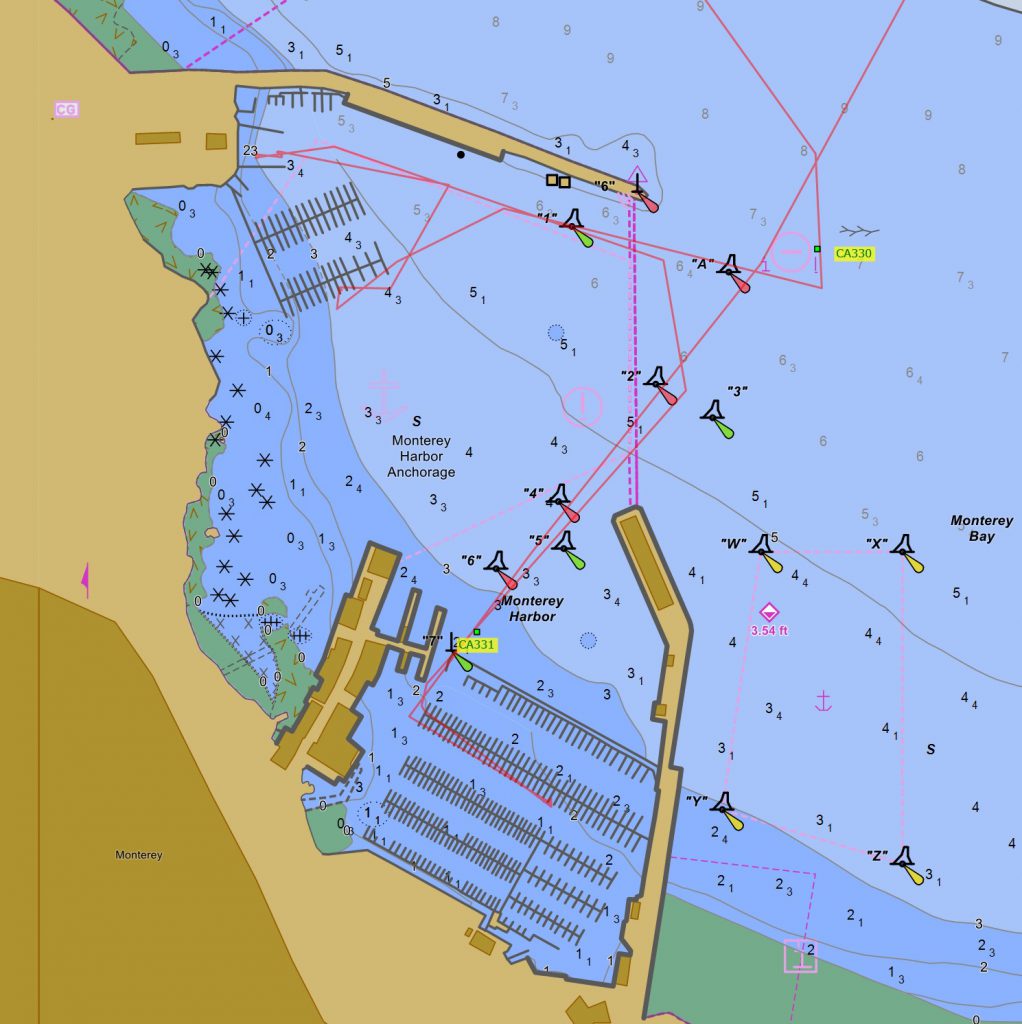 Monterey town and its surroundings are, in our opinion, one of the most beautiful places in California. This area is suspended between the windier and cooler climate of Northern California, and the very mild weather of Southern California. October was the perfect month to be there, still warm but with the first signs of fall showing up. The summer fogs were mostly gone and we enjoyed a lot of sunny days. In the second half of the month, we started feeling the change in the weather, with more cold fronts coming in and bringing clouds and some rain. The town is steeped in history – it started as a Spanish settlement, with one of many Franciscan missions built there, then was an important town for newly created Mexico and Alta California state, and finally became the capital of California once it joined US, after the American-Mexican war. It did not see much fighting and the transition was fairly peaceful. Later, when the capital moved to Sacramento, the growth stopped, but it also helped to preserve the historical character of Monterey, and keep many old buildings intact. It is one of a few places where one can see many Spanish-built adobe houses still preserved. Later the town saw the boom and bust of the fishing industry, with the famous Cannery Row described in Steinbeck's novel of the same title. After the Second World War, the town slowly developed into a a more leisurly place where near and far city-dwellers come to enjoy the climate, the golf courses, the beaches, and the richness of marine life.
Our stay in Monterey was punctured by health issues. Olena has developed a condition that came out of nowhere and was nothing common and not easy to diagnose. It required many many doctor visits. We will not go into details here, maybe another time, but we were scared, frustrated, and exhausted from multiple appointments, diagnostics, and even an ER stop. The Monterey health system has proved to be slow, full of incompetent people, and just not geared to solve unexpected health issues. That doubled our frustrations. Eventually, things got stabilized to the point where we could move on, but there were times when we were thinking that our trip may come to an end much sooner than we could have envisioned. Thankfully in all of this we have experienced a great deal of help from our friends back in Washington state as well as from fellow cruisers. They offered ideas, suggestions, doctor recommendations and overall support. We will remember this forever.
This whole thing forced us to stay in Monterey for 3 weeks instead of one, as we planned. It also tested our choices of medical insurance and compelled us to make some changes in those. We will write a separate post just about that. Luckily we could use some time between the medical appointments to explore Monterey and its surroundings. To some extent, it was a distraction from our daily problems, but it gave us many happy moments and good memories.
Below are some snapshots of what we have seen and what we recommend.
Historical Monterey
We have learned a great deal about the history of California from our stay in Monterey. From native people, through Spaniards, and then transition to free Mexico state and then finally to the United States. There is a lot to unpack here and a lot we did not know before (remember, we did not attend US schools). The little museum of history located in one of the old buildings near Monterey Harbor has given us a lot of information. This museum is one of those rare gems that are right-sized to provide good amount of knowledge, but at the same time not to overwhelm. We walked through the old town, exploring many other buildings, some open to visits, some to be seen only from outside. Number of them have beautiful courtyards where many flowers and fruits are growing. We were surprised to see so many blooming flowers in the middle of October.
Many famous people lived in Monterey. Steinbeck is probably the most known, and we discovered a lot about him. But the town was also been home to Robert Louis Stevenson – another famous writer, who stayed there to improve his health. And a surprise to us – Salvador Dali. There was a small museum dedicated just to him.
Steinbeck's country
John Steinbeck is probably the most known resident of Monterey. He was born in nearby Salinas and lived and wrote in Monterey for many years. The ocean-front street that housed many fish canneries in the 30s and 40s of the last century has been renamed Cannery Row in honor of Steinbeck's novel describing it. From here Steinbeck and Ed Rickets chartered a fishing boat – Western Flyer – and went to the Sea of Cortez on a scientific and soul-searching expedition described in the Log of Sea of Cortez. And most of Steinbeck's books written in the first half of the last century are set in this stretch of California. One can learn a great deal about the people who lived here and their condition in those times from those books. In Salinas, there is a really informative museum of Steinbeck and we have spent many hours there and left with many of his books.
Sealife and Monterey Aquarium
Monterey Aquarium is a world-class institution and in our opinion a must-see. It has beautiful displays, some of the tanks are multi-story high and hold entire ecosystems. The museum has two main sections – one dedicated to deep-ocean life and one showing the coastal and tidal waters of California. Both are stunning. And then there are the seasonal displays, a large theater showing interesting movies, a view platform where one can observe whales out in the bay, and more, and more. To go through everything one needs a full-day visit.
Still photos do not capture the aquarium that well. Here are a few videos to give you a better idea.
Around Monterey
There is a lot to see in Monterey itself, but even more around it. We rented a car (we discovered Turo service that allowed us to find many fun to drive and inexpensive cars), and drove near and far. Pebble Beach is a town next to Monterey and has a famous "17-mile drive" winding through the world-class golf course and residential area and ending in Carmel – a very posh town. We also visited the wine country in Carmel Valley. Drove on Highway 1 down to Morro Bay and back, stopping in many picturesque places and seeing an elephant seal colony on a beach near San Simeon. This stretch of the coast is just stunning and worth visiting many times.
---
I will end with a quote from Steinbeck, that I think captures the mood and the essence of our stay in Monterey and how we started to look at our journey after that.
So this journey started taking us and leading us to where it wants. We knew when we departed that we should not take anything for granted, but this experience really made that real. We learned how to take bad days in stride and enjoy the good ones. We also realized that we do not need to be rushing to any next destination, take things slower and savor the experiences. We completely abandoned our plan of being in mainland Mexico for Christmas and instead focused on 1- or 2-week plans.
After 3 weeks we still did not have all the answers we wanted but we came to a conclusion that Monterey's medical system has nothing more to offer and we need to seek help elsewhere. We also knew that weather is changing and if we stay here we may as well stay until the next year. So on October 23rd, we left Monterey and continued down the coast to Southern California.