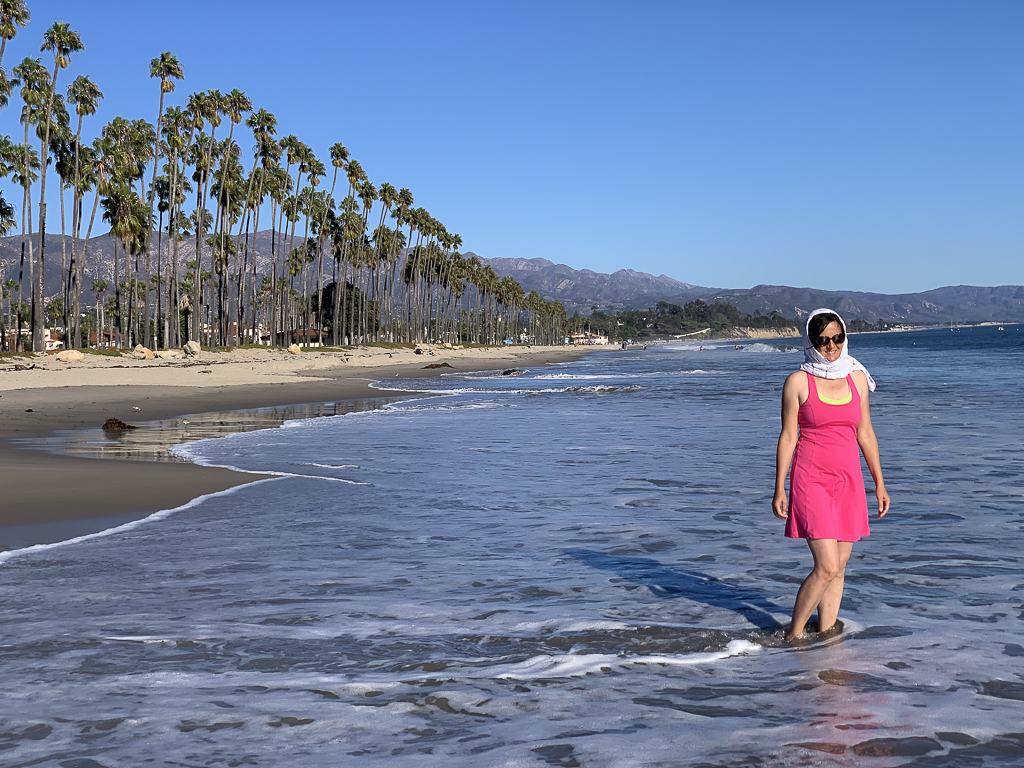 Our stay in Monterey ran longer than we planned. The second half of October came and with it changing weather. The fall/winter storms started coming more and more south and threatening to lock us in. So we abandoned the original plan of making smaller hops along the coast and instead decided to go on an overnight sail to jump directly to Southern California. That got us past Point Conception, which is another one of those challenging capes on the west coasts, and into more settled and milder weather. Since Olena was still not at her 100%, we asked our friend and prior crew, Steve, to help us again. He graciously agreed and we departed from Monterey on Sunday, October 23rd.
The trip was fairly uneventful. We managed to move between two weather systems, one diminishing in front of us, and another really strong one, coming about 12 hours after us. We had this small window and had to move fast to use it. Rounding Point Conception turned out to be a non-event, and right after it we were greeted by a pod of dolphins.
There was a noticeable change once we turned southeast after Point Conception. Waves got smaller as the ocean swell gets deflected, the air warmer, and the winds gentler. Santa Barbara greeted us with beautiful warm weather, blooming flowers, and happy and carefree SoCal people enjoying the seaside.
Santa Barbara
It is possibly the nicest seaside town in California. Just the right mix of old and new, beach vibe and Spanish old town, and it is all walkable, clean, and well maintained. There is a lot of money going to upkeep the town and it is not the average folks living there. Since our last visit several years ago (by car), they closed the main street and turned it into a pedestrian space, lined up with restaurants that now spread into the street. It is one of a few positive changes brought by COVID – the restaurants are more an outdoor thing now, like in Europe. And Santa Barbara has the perfect climate for that. Twice a week, the same street turns into one of the best farmer's markets we've ever been to. The selection of fresh veggies and fruits has been extraordinary. We have sampled quite a lot.
Santa Barbara marina is a large facility and a busy one. There are a lot of boats in SoCal and marinas get packed. We've heard that the only way to get a permanent slip there is to buy a boat that already has one! They do not take reservations and operate on a first-come-first-served basis. The docks are in great condition. There are many conveniently placed showers and restrooms, a laundry, a lot of restaurants, and a fish market next to the marina. The main part of the town is within 20 minutes' walk. The marina has two interesting policies. The good one – they will accommodate all coming boats if there is a Small Craft Advisory or higher weather warning (winds 25+ knots). They will squeeze in boats where they can. We actually did use that when we came, and only got a normal slip after 2 days. The not-so-good policy – regular pricing will get you through the first 2 weeks, after that the price doubles. This means no transient boat stays longer than 2 weeks. There is an anchorage outside of the marina but it is completely unprotected and the dinghy access options are limited.
Ventura and Oxnard
From Santa Barbara, we made a small hop to Ventura, and then even smaller, just 8 NM, to Oxnard. Because of our medical challenges, we had to stay longer in California, but we could not be in one place for too long. Each marina in California has restrictions on the length of the stay, it is usually between a week to two weeks.
The trip from Santa Barbara to Ventura has been all in a dense fog – we have seen a maximum of half a mile. Quite spooky and it was past Halloween! This has not been the usual weather for this time of the year. The fog stayed up for most of the day and kept the temperatures down. We did not like it. The sail to Oxnard was a bit better, overcast, but not too foggy. We sailed all the way in very light winds. Saw some seals and a lot of pelicans, but no dolphins this time.
Ventura and Oxnard are big natural harbors, well protected from the sea. The entrances are narrow and must be treated with respect if there is wind and swell. There are some shallow areas that need to be watched for. Once inside, each place offers a large selection of marinas. We stayed in the Safe Harbor marinas in both places, namely Safe Harbor Ventura Isle and Safe Harbor Anacapa Isle. It is a chain of marinas that has a presence in most of the SoCal. They are easy to book through the Dockwa application, have great and helpful staff, and are well maintained. The docks were in great condition and so were the showers and facilities. In Oxnard, we got access to a clubhouse and a swimming pool. We rented a car and did several trips up and down the coast and more inland. We recommend the little town of Ojai, famous for its spiritual retreats and new-age vibe. Great place to walk around, and get a good coffee, and lunch.
Throughout California, we sought out the Spanish missions. They have been usually the first structures build in each of the locations that are now well-known towns. The missions are usually nicely located and well-kept and worth the visit. They've been run by Franciscan monks. There was one in Santa Barbara, and now we found one in Ventura. The town's name is actually short for Buenaventura, which is the saint patron of San Buenaventura Mission.
In Oxnard, we visited another farmers' market. It's on Sundays and right next to the marinas. We also found some time to cruise around in a dinghy and relax on the beach.
Marina del Rey
From Oxnard, we moved to Marina Del Rey where we spent several days exploring LA and attending to our personal appointments. This place has the biggest concentration of boats in California. There are 20+ marinas, each filled up with boats. For transients, the easiest place to stop are the public docks at Burton Chase park. They are not the cleanest, we had to hose down our dock to remove all the birds' poop after arriving. But they are inexpensive and on a first-come-first-serve basis. You can just dock to any open space and go to the marina office to complete the formalities.
This place gets busy! Boat traffic on the water, big party boats, small pleasure craft, sailboats, kayaks, you name it. There are a lot of people in the park as well. We liked the area for its walkability and access to the LA, but we could not stay there too long. Just too much of a party scene.
We managed to get a day to tour the Getty museum. That is one of the best art museums we have seen. And its architecture and the setting are equally stunning. Highly recommended.
On the low side – getting around LA by public transit is just a hard job. The buses are notoriously late, some routes are changed without any information about it, and it is just hard to figure out. A few times we started a trip on a bus and halfway switched to Uber because it was just impossible to get anywhere on time otherwise. If you do try it, get the TAP card/app on your phone to make the ticket payments easier. It works with Apple Wallet.
Long Beach
We have found a slip in a Rainbow Harbor right in the touristy center of Long Beach, next to many tour boats taking people out to the ocean and to the nearby islands. It's been interesting to sit mostly alone on a large dock and watch the tourist traffic and people looking at our boat.
It turned out that we have spent Thanksgiving onboard in Long Beach. With a convenient connection to LAX airport, our kids were able to fly in and stay for the holiday with us. It was first ever holidaying onboard, but it worked out well. We tested our galley capabilities to the max and turned out that we can make a pretty good holiday dinner onboard, including a turkey.
On Black Friday we rented a car and drove around LA, Beverly Hills and Hollywood. We managed to get same-day tickets to tour Warner Bros studios. That was a great experience and a first time for us to see how movies are made. Very informative and entertaining. We ended the day watching the nightscape of the city from the Griffith Observatory. Beautiful!
Catalina Island
A beautiful place, meeting interesting people, Santa Ana winds throughout all that time we have stayed in the marinas and needed some break. We found an opportunity for a few overnights at Catalina Island. That place is a gem and has been a highlight of our time in California. Catalina has two very distinct areas – Two Harbors, which include Isthmus Cove on one side of the island and Catalina Cove on the other. There is a small village between the two coves, a leftover from the Hollywood filming days. Yes, that island located about 20 NM from the US mainland was "playing" a role of a remote tropical place in a number of movies. Currently, it has a very low-key vibe – no roads, no infrastructure, just a single restaurant, a camping place, and a number of trails to hike. In the harbors, there are mooring buoys. When we came, there were only 3 other boats in Isthmus Cove. After a night we decided to move to Catalina Cove, which is much more protected and offered a better shelter from incoming Santa Ana winds. While there we met some wonderful cruisers and started lasting friendships.
After Thanksgiving, we came to Avalon Harbor, which is on the southeast end of the island. That area is quite an opposite of the Two Harbors – very developed, with hotels, restaurants, and fancy stores. There are a lot of people brought there by tour boats and ferries. Occasionally even cruise ships stop here. But it still has its charm and we enjoyed walking around and hiking to the top of the hill for beautiful views. The mooring field is huge. I am sure it gets busy during the summer, but when we were there, in late November, we had plenty of space. The harbormaster is very friendly and they offer a lot of help with navigating the mooring field and picking up the buoys. We came there after dark and they guided us to the assigned mooring ball.
Orange County and San Diego
After Thanksgiving, we have done one more round of doctors' visits. Olena's condition got stabilized and she got enough explanation and assurance to help her decide that we can continue our journey. We started preparing for crossing to Mexico in early December. The last place to stop in the US was San Diego. We have split that leg into two parts with an overnight stay in Dana Point.
It's a nice little marina, and it was beautifully decorated for the Holidays. People from around Orange County were coming in to enjoy food and drinks in the marina's many restaurants. While the nights started getting cold, the days were still warm and sunny. It is easy to get used to holidaying in warmer climates.
This morning we departed with the first light and got to San Diego right before sunset. Long day. Mostly motoring, but there was a bit of sailing when the wind picked up in the afternoon. We had a mishap with the mainsheet so that limited our sailing to some extent.
We are docked at the Public Docks (cheap!). Tomorrow, we need to run a few errands, make some repairs, and generally wrap up everything that's left to do in the US.