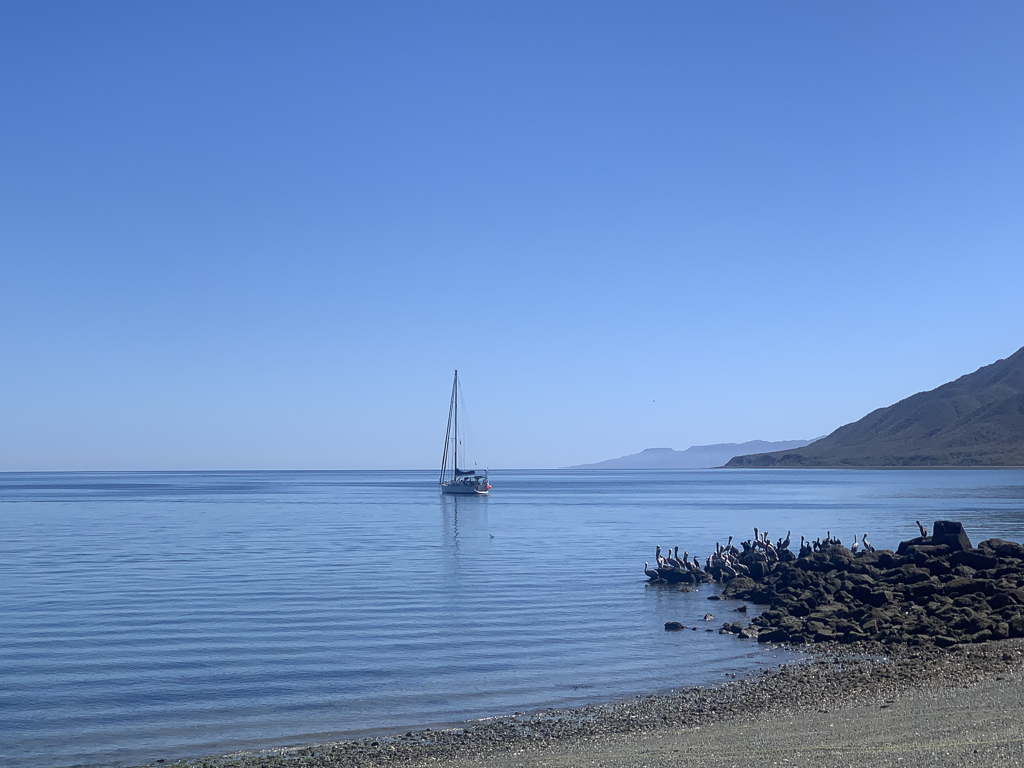 Sailing down the Baja coast
After spending about a month in Ensenada, not counting a break for a Holiday trip to States, we have finally departed for the next segment of our journey. We had to grow our sea legs again and get acclimated to the moving boat. Ahead of us stretched a rugged coast of Baja. It is just the two of us this time, with no additional crew. We knew this part would be different from anything we have experienced so far. The land here is sparsely populated and there is almost no infrastructure. And it is a foreign country. We had to count mostly on ourselves. But this is why we started this whole trip – to explore and experience new and hard to get to places.
The first leg was an overnight sail to San Quintin. Olena made dinner ahead – beef stew with potatoes – so we could avoid cooking on the first night. The sun has set, and the moon rose. We have been lucky to have the near fool moon, providing a lot of light. Earlier in the day, we managed to do some sailing. The wind was light, and we moved gently and slowly. We had time to spare, as we left earlier than planned. We encountered several pods of dolphins, humpback whales, and some smaller whales that looked like all-black orcas. Not sure what those were. Lots of marine life in those waters!
We arrived at San Quintin with the first light and dropped the anchor around 8:30 am. The anchorage there is very wide and very flat, with a constant depth of 30 ft for a long stretch. It is a huge bay, somewhat protected from the ocean by a piece of land sticking out. But just barely. That's what cruisers call "a roadstead anchorage". It means that you are sleeping almost in the open ocean, with just a little bit of shelter. This time the weather and swells cooperated, and we had a very peaceful night, with the boat just gently rocking.
We could see we were still not too far from civilization, with a number of homes dotting the shore and a quite strong cell phone signal. We spent a day in the bay, staying on the boat, just relaxing and catching up on sleep after the first night at sea.
---
The following day we departed after breakfast. We motored a bit in the morning but later the wind filled in and we switched to sails. After safely rounding the dangerous Sacramento Reef and an early dinner, we have turned southeast and set out the jib on a pole and set the sails wing-on-wing. That means that the forward sail is on one side of the boat, and the mainsail is on the opposite side. This lets us sail downwind well. We continued like that through the night, and it was a magical experience. The wind shifted from NW to N and we turned with it towards our destination for the next day – Cedros Island. The night was clear and bright as it was full moon again. Almost no clouds this time so the visibility was exceptional. We have passed several small fishing pangas, they were busy with their business. I am grateful they do display lights, as they are not very big targets for the radar.
In the morning we came to the northern tip of Cedros Island and we proceeded on its eastern side towards the only inhabited place – Pueblo Cedros. It still took us several hours to get there and we finally dropped anchor inside a small harbor around noon. The port has been half-filled by local fishing boats – pangas. It took us a few attempts to find a good anchoring spot, as it is a very small harbor. After our first two tries, one of the fishermen swung by and pointed to where we should anchor to avoid getting entangled with all the other boats. It was one of the first happy encounters with the locals on this island.
The following morning we went ashore to explore. The first stop was at the Port Captain to check in and check out at the same time. Interestingly the Captain's office is quite a walk from the harbor and way uphill. Halfway through we were approached by the local police and after they learned where we are going, they happily took us there! I think this was my first ever ride in the back of a police car. The Port Captain spoke very good English and was very polite. We completed all formalities in less than 10 minutes and had a nice chat with him. We then stopped at a local grocery store, bought a few things, and went to get a coffee in what looked like a coffee place. It turned out to be a regular restaurant. Soon local fisherman came and one of them approached us. We already met him briefly the prior day. We learned his name – Eduardo – and through the conversation, he offered to buy us dinner. It was the local delicacy – lobster – and it was great. We had a good conversation and we could clearly see he was very proud of his town and the people there.
The day ended with purchasing and transferring diesel fuel. Earlier, when walking through the town we were approached by two guys who offered to sell us diesel. They introduced themselves as Jesus and Purple. When we came back to the boat, they arrived in a panga with two 60L barrels of diesel. We had to transfer those to the boat and pour and filter all the fuel. Quite an operation if you are trying it for the first time. And it happened to be blowing 25k of wind! But we got it done.
Overall, Cedros was like a place from a different world, at least for us. Visually it was very run down – dirt streets, some houses that are barely standing, no connectivity, and very limited services. But the people were happy and friendly, easy to approach, and curious about us. They knew each other, talked with each other on the streets, and helped each other. Many people just stopped us on a street and asked if we need anything or just chatted. We have not been in a place like this in a long time.
---
After two nights at Cedros, reluctantly, we left this friendly place. The weather forecast stayed good, so it was prudent for us to continue. This was just a day's hop to Turtle Bay, about 50 nautical miles total. We had great wind and kept sailing for the whole duration of the day. And we caught our first fish! It was a bonito, not too big, but as for a first catch, very sufficient. The dinner plans were altered from pasta to grilled fish!
Turtle Bay was the best anchorage we had so far. Very protected, has flat water, and a lot of space. We slept well with the boat sitting still.
But the town did not make a good impression on us. Perhaps COVID impacted it more than other places – there were a lot of restaurants closed, and a lot of buildings abandoned. We only found one open restaurant and we were the only people there. And the town seemed almost deserted, with more dogs wandering the streets than people. The people, unlike in Cedros, were not much interested in talking with us or even saying 'Hi'. In the entire two days there we chatted with only two people. The first one was Rojelio, a young guy who moved back to his father's house after living in Mexico City. He has been trying to improve Turtle Bay and make it a more pleasant place. He has set up a non-profit to clean up the bay and the town and to encourage people to recycle more. He showed great passion and enthusiasm, but I think it is an uphill battle to realize his plans. We supported him as much as we could and donated some items to help his cause. The second person was the local priest. We went to church on Sunday, just to see how it looks. Turned out there was a mass going on, and we were greeted personally by the priest, so we felt obliged to stay. He chatted with us after the mass and asked where we are from and where we are going. He was genuinely curious. But that was it, we could not connect with anyone else. It was just such a contrast from our experience at Cedros.
We also could not connect with the outside world, as there was no internet connection in the whole town available to us. So we had time to wander outside. We climbed on the local steep hills and enjoyed the beautiful views of the whole bay.
On the first day, we were alone in the bay. On Sunday two other boats came in – our friends from Ensenada on s/v Fly Aweigh, and another boat – s/v Grace with young people from Los Angeles. We enjoyed an evening together in our cockpit and that was the highlight of our stay in Turtle Bay.
---
Next stop south was Bahia Asuncion. It was another day trip and another one of those fantastic sailing days that you remember for a long time. We started the day on a beam reach with a light N wind, which then shifted to NW and increased to a steady 15k. We gybed, put one reef just in case, set up the jib on a pole, and sailed like that for the rest of the day. Right before the bay winds and seas built up, with gusts to 20+, but the boat was handling it with great ease. We have sailed almost to the anchorage.
Oh, and one more thing – in the morning we had a close call with a whale. We were sailing on the new gybe and saw a whale surfacing about 100 meters from us, swimming parallel to our course. A minute or so later that whale was right next to us and crossing our path under the boat. We did not even have time to alter the course or do anything. He (I think it was 'he') just swam under our keel and thankfully did not touch us. We were in shock. Later we learned that whales can approach boats like that, out of curiosity, and that they are aware of where to boat is and should not hit it.
The Bahia Asuncion is very protected from the swell. There was some wind, but the night was quite calm. The following day we explored the town of Asuncion. It was the most well-developed and cleanest of the towns we have seen so far. We bought some provisions in a local store and found a little restaurant on the beach – a palapa – and had some fried fish there. The town, like others in this area, seemed to be sustained by fishing. There were a lot of pangas on the beach and a lot of men working around them.
There was a guy who contacted us on VHF as we came to the bay, that we thought was just another cruiser. He turned out to be a local guy – Lery Espinoza – who lives in town but also has a small sailboat anchored in the bay. He provides a water taxi service or takes people coming here by land out on sail trips. It is amazing that he keeps his little boat in this bay all year with no facilities. We did not use his services, as we managed to talk to him only the evening before our departure. But it was great to meet him and we made sure to mention to other cruisers following us that they can count on his assistance.
---
The next leg was to be the longest one on this Baja trip. 187 nautical miles. We departed Bahia Asuncion with the first light. Throughout the day we alternated sailing and motoring, and we alternated taking naps. When on a passage, it is important to rest. Everything takes more time to do and requires more energy and concentration. Resting when possible is important. When not napping we read and just watched the scenery. We got passed by a pod of dolphins, about 50 of them, but they did not stay too long with us.
The night has been a very starry one. The moon, which was full when we left Ensenada, has now shrunk to less than half of itself and has been rising only around 3 am. So, for most of the night, we had only stars. They still give a lot of light and it is amazing to see how many of them are out there. We had good winds until close to midnight, then started motoring. We have not motored that much recently, so used the opportunity to make water.
The following afternoon we made it to Santa Maria! It is a very large bay, you could fit a whole fleet of boats here. Baja Ha-ha rally stops here and they fit 150+ boats in this bay. When we came there were only two other sailboats and we stayed far apart. We just rested and did not go ashore here. We did notice though that the water was starting to get warmer – we measured 75F or 23C on the surface. That's exciting!
On the next day, we made a short trip of 30 miles to the next bay – Bahia Magdalena. On the chart, it looked like it was just around the corner, but it still took us 5 hours to get there. It is funny to think how our thinking about distances changed. Back during our Puget Sound sailing days, 30 miles was a long trip, now it is a short hop.
After leaving Santa Maria we were thinking about what to do for dinner. Olena said – "maybe fish"? We put in the line behind the boat, not counting on much. Well, in 10 minutes we had the first fish, but it was a small one, so we let it go. In the next 15 minutes, we had a bigger one – a kind of tuna. The dinner problem was solved!
Once we entered Magdalena Bay we were suddenly surrounded by whales. They were everywhere, some breaching out of the water. Quite a show. We've heard that gray whales come to this bay to give birth and nurse their young ones but did not expect to see so many at once.
Magdalena Bay is very large but also very protected, with land almost surrounding it. We proceeded 7 miles north from the entrance and anchored in front of a small settlement in Man-of-war Cove. There were four other boats beside us, which made it the most "crowded" anchorage we have experienced in the last 2 weeks. We had an excellent onboard dinner of grilled fish and grilled veggies, and some nice wine to go with it. As we were grilling, a pod of dolphins came to the anchorage. Hard to believe all this was happening for real. Sometimes there are days like that.
We liked Man-of-War Cove so much that we stayed 3 nights there and I think we could easily stay longer. Contrary to its name it is a very peaceful place. The shore is occupied by a fishing village. We went exploring on Saturday. We walked the beach all the way to the beginning of the mangrove forest and then back and got some rest and lunch at the only restaurant in the village. Besides serving cruisers like us, the restaurant is catering to people coming from San Carlos and doing whale watching in the bay. There is a fleet of pangas employed by a hotel owner in San Carlos that is taking people to see the whales and then bringing them into this restaurant for lunch. We also toured a set of "glamping" tents, set up with beds and carpets, ready for tourists who want to experience the wilderness of Baja.
On Saturday evening our friends from s/v Fly Aweigh arrived in the bay and we enjoyed the evening and most of the Sunday together. Sunday's big event was a trip to the mangrove forest by dinghy. Except the tides did not cooperate and we had to leave the dinghies four out on the beach and explore the estuary by foot as much as we could. We had a great lunch on the beach and went back. In the evening we went again ashore to have dinner at the same restaurant. It serves only seafood, and we splurged on lobster this time.
---
The next morning, we lifted the anchor again and started moving south toward Cabo. There were a lot of whales again at the exit of Magdalena Bay and we spent some time watching them. The passage was smooth. At night the winds kept us busy – shifting from NW to N and then back to NW and changing in strength. We had to keep adjusting the sails and the heading to keep us on track, and even gybed in the middle of the night. Sometime during the night, we started seeing much more lights from the little towns north of Cabo. One of them was Todos Santos – a little town we have visited several years ago when we were on vacation in Cabo. We really liked that place. Somewhere there we entered the tropics, passing the Tropic of Cancer. We could see the Southern Cross raising above the horizon.
During the day we wished for a little bit more wind, as we had to run the engine a bit too much. That always tires us more than sailing. On the approach to Cabo, we were surrounded by sport fishing boats, whale-watching boats, and just any possible watercraft. After weeks of seeing one boat a day, this was quite a change.
We eventually rounded the cape and entered the bay. It's been crazy busy! All the traffic made the bay really choppy. The anchorage was quite full, but we just spotted s/v Grace, the boat we met in Turtle Bay, leaving, and we continently just took their spot. And with that, we completed the 787-miles route from Ensenada and came back to civilization.
This has been an amazing and very transformational trip for us. Prior to it, we had longer passages, but with the crew, or shorter day-hops in California. This was the first set of multi-day passages with just the two of us and in a very remote area. We managed through it and proved to ourselves that we can do it. We now are ready to explore more of Mexico for the rest of this season.