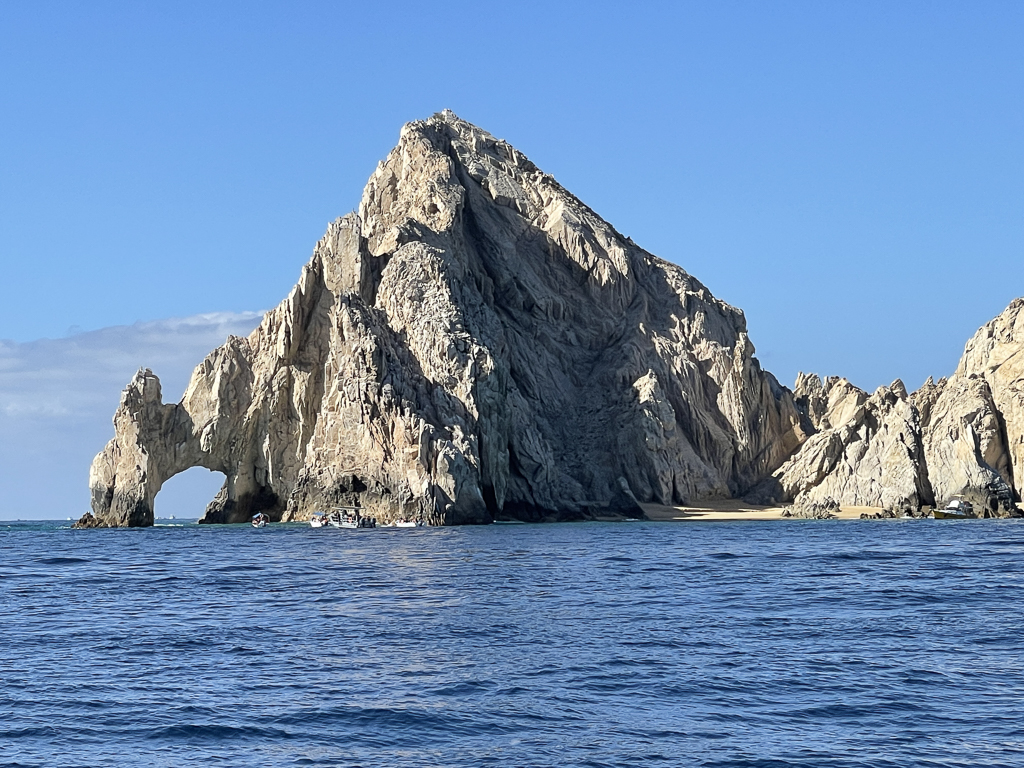 After almost 800 miles of rugged coast, it was exciting to reach the end of the Baja peninsula and overwhelming to be back in the fully civilized world. We found an anchoring spot and went to town to celebrate. But after two days, the good feelings and energy boost we got from traveling down that far started evaporating. Cabo was quite annoying, and we could not wait to get out of there. We just needed the right weather.
The day after we arrived, we went ashore to complete formalities and get some fresh food, especially veggies and fruits. We had to first find the local Port Authority office (API) which is in a completely non-marked building. If not for help from other cruisers, we would have had a hard time locating it. We paid our anchorage fee, and with the printed and stamped receipt marched to Port Captain's office. As it seems typical in Mexico, the Port Captain is located far away from the shore, this time it was about a mile walk into the town. But we managed to complete the check-in in a short amount of time. Unfortunately, we could not check out at the same time. On the way to and from those offices, we had to pass through the "tourist zone" around the marina. It is a big boardwalk surrounding the marina occupied by restaurants and vendors. People are trying to sell you whatever they can – souvenirs, hats, boat trips, fishing trips, inland trips, swimming with dolphins, flying, and who knows what else. It is extremely difficult to walk through all this.
The second objective was to get fresh groceries. We took an Uber to a local Soriana hipermercado. This was a good choice as they have the biggest selection of food we have seen so far in Mexico, including many products that we could not find elsewhere – natural and non-sweetened yogurt, good quality cold meets, and good cheeses. Resupplied we took another Uber back to the marina and to our dinghy. On a positive note, it turns out that if you are walking with huge grocery bags through the marina boardwalk the vendors leave you alone.
Upon returning to the boat our anchor alarm was on. We could have moved just a bit, or we could have our anchor position not marked perfectly, but since we were anchored on a downward slope we decided to re-anchor. Unfortunately, the anchorage was quite full and the only spot that we could find was closer to the shore and closer to all the noise and entertainment from the hotels and clubs. And the jet-ski parking. Oh, well. We had free music, without the option of turning it off.
In the evening we hosted folks from s/v Fly Aweigh and s/v Misty – it was a great evening of catching up and meeting new people.
The following day things turned worse. Throughout the night we had a large swell rolling into the bay, and the wind shifting from NE to SE, pushing us toward the shore. The seas really built up and made the boat roll in all possible directions. We got to the point when we were starting to feel seasick. On an anchored boat! This was really the worst anchorage we had in the whole Baja trip. Earlier we planned on going ashore but decided not to leave the boat in those conditions and not risk the dinghy ride in the rolling seas. So, we spent the day sitting in a rolly anchorage, worried about being on a lee shore, with music blasting from the club behind us, jet skiers going around the boat all day, and not keen on going ashore to be assaulted again by all the vendors. We were still grateful for catching up with other boaters here and for the fact that we got so far. But we wanted to move on.
The plans were made to leave Cabo and go on a straight-line sail all the way to Banderas Bay, as soon as the conditions improved. We got lucky to have a company. Our friends from s/v Fly Aweigh were going in the same direction and we agreed to buddy boat. This would be the first time for us to do that.
The last day in Cabo was somehow better. We took a long walk along the beach and ended up far away from the noisiest bars and in an area with only a few hotels and a few people. We appreciated the best that Cabo has to offer – water, sun, and sand. Cabo beach is truly beautiful. On the way back we ventured into one of the hotels and wanted to buy some water but got denied because we had no hotel bracelets. Well, we stepped outside and found a small stand where all the hotel workers were buying snacks and drinks and got our water there. We walked on dirt roads backing the hotels and took a local bus – a converted US school bus – back to the marina. It was such a contrast of glitzy hotel fronts facing the bay and dirt-road pedestrian back side, resembling fishing villages we've seen. This was Cabo's experience not from the brochures.
On Saturday, Feb 5th, we lifted anchor and left at around 10 am. This would be the longest passage for us – 2 nights at sea. After gaining experience down the Baja coast we wanted to try a longer stretch. Plus, we had a company. We imagined buddy boating as staying rather apart and just being able to communicate over VHF. But we managed to keep quite close for the whole trip, sometimes just a mile apart. Turned out that our 46-foot monohull and their 39-foot catamaran had quite matching speeds. They were faster in lighter winds, but we could catch up when the winds picked up, so all in all this has averaged out. It was great to see each other all the time and chat, especially during the night.
After motoring for several hours on the first day, the winds picked up and we sailed all the way to Banderas Bay. The Sunday sailing was excellent – broad reaching in 10-15 knots, all sails up and eating miles. In the night the winds increased to the high teens, gusting to 20. We reefed down and changed genoa to jib and still were making the same speed. The increased winds created short steep waves coming from the side, making it hard to do anything, including sleeping. We took turns taking naps in the cockpit and shortened the watches and somehow got through that.
We got to see the bioluminescence for the first time. Waves were breaking under the boat and streaming out with little lights looking like fireflies in the water. And you can see dolphins moving through the water leaving a stream of light! Quite magical. The land looks differently than Baja and smells differently. We are a few hours away from docking in a marina for the first time in 3 weeks. We hope to still remember how to do it. Looking forward to getting some rest.